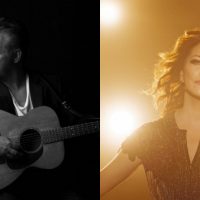 Marc Hauser; Joseph LlanesJohn Mellencamp recently released a new single called "Grandview" that features guest vocals by Martina McBride. The heartland rocker and the country star will team up to perform the tune for the first time ever on television this evening on NBC's The Tonight Show Starring Jimmy Fallon.
"Grandview" is one of 13 tracks that will appear on Mellencamp's forthcoming studio album, Sad Clowns & Hillbillies, a collaborative project with veteran country-folk artist Carlene Carter that's due out April 28. You can check out the studio version of the rootsy rock tune now on Mellencamp's SoundCloud page.
This evening's episode of The Tonight Show, which airs at 11:35 p.m. ET/10:35 p.m. CT, also will feature Oscar-nominated actor Michael Shannon and pop/R&B star Alicia Keys.
Copyright © 2017, ABC Radio. All rights reserved.