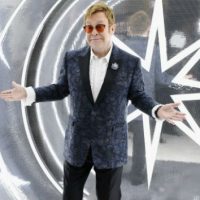 Dimitrios Kambouris/Getty Images for EJAFElton John marked his 25th annual Academy Awards Viewing Party with a milestone: Seven million dollars was raised for his AIDS Foundation. At the star-studded gala, Elton told the crowd, "This party and our work have always been about love, inclusion, fairness and good health for everyone. We believe these remedies can cure anything…most especially AIDS."
The event was attended by celebrities like Sting, Smokey Robinson, Chris Cornell, Beck, Quincy Jones, Heidi Klum, Jeffrey Tambor, Sharon Stone, Seth MacFarlane, Tracee Ellis Ross, Caitlyn Jenner, Gordan Ramsay, Jane Seymour, Michelle Dockery, Regina King and dozens more. One of guests, sometimes Queen singer Adam Lambert, noted that the fight against AIDS "still needs to go on."
"I think maybe some of the young generation right now have sorta downplayed it a bit," Adam, who's gay, said on the red carpet. "So we have to kinda remind them, 'This is what it is, this is how to prevent it, this is how to deal with it.'"
He added, "Especially right now in this sociopolitical time, I think it's really important. HIV AIDS is one component of a community that's being marginalized, so we have stand up and make sure that we dig our feet in the sand and stay strong."
A chunk of the seven million dollars was raised via an auction of items like a BVLGARI diamond necklace, fine-art prints picturing Elton, his songwriting partner Bernie Taupin, Carly Simon and others, a five-day vacation at Steven Tyler's Hawaiian home, and two tickets to the Vanity Fair Oscar party.
The entertainment was provided by the band St. Paul & the Broken Bones, and Elton joined them to perform their song "I'll Be Your Woman."
Copyright © 2017, ABC Radio. All rights reserved.