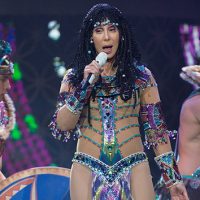 Cher in concert in 2014; Joey Foley/Getty ImagesCher's got a new Las Vegas residency on her hands, and it's been so successful that she's just extended it into November.
This past month, Cher debuted her new show, Classic Cher, at the Park Theater at the Monte Carlo Resort and Casino in Vegas. Now, she's extended the show, announcing a new batch of performances from August 2 through August 19, and November 8 through November 25. Tickets go on sale this Saturday at 10 a.m. PT. American Express card members can get the tickets today, March 1.
Cher's previously announced May dates in Vegas, from May 3 through May 20, are already on sale. The show features songs from every phase of Cher's career, from her '60s hits with Sonny Bono, to her '70s solo hits like "Half-Breed" and "Take Me Home," to her '80s smashes like "If I Could Turn Back Time" and, of course, "Believe."
The same venue is hosting Ricky Martin's first Las Vegas residency, which gets underway April 5.
Here are all of Cher's upcoming Las Vegas shows:
May 3, 5, 6, 10, 12, 13, 17, 19, 20
August 2, 4, 5, 9, 11, 12, 16, 18, 19
November 8, 10, 11, 15, 17, 18, 21, 24, 25
Copyright © 2017, ABC Radio. All rights reserved.