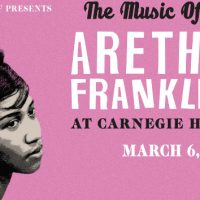 Michael Dorf PresentsThe 2017 edition of the star-studded annual tribute concert at New York's Carnegie Hall that entrepreneur Michael Dorf organizes is set to take place this Monday, with this year's event honoring Aretha Franklin. The impressive lineup for the show, dubbed "The Music of Aretha Franklin," includes such well-known artists as Todd Rundgren, Kenny Loggins, Sam Moore, ex-Labelle singer Sarah Dash and Melissa Etheridge.
Dorf tells ABC Radio that he thinks one of most appealing aspects of the Franklin tribute show will be hearing singers not necessarily associated with soul music putting their spin on Aretha's famous tunes.
"To hear Todd Rundgren or Kenny Loggins…for example, do Aretha Franklin, it's just gonna be absolutely cool," Dorf declares. "I mean, these are voices that people know, and then to hear them doing some material of Aretha [will be] very special."
Michael, who's the founder of the City Winery chain of music venues, adds that he expects the concert will give a number of the performers the chance to display their hidden soul or gospel influences.
"I've always thought that Todd Rundgren had a bit of soul," Dorf maintains. "And…I think several of these artists…now that you see them identified with this Aretha show, you [will] go, 'Oh, yeah, yeah. There always was that respect or hint for some gospel in their vocals or in their music.'"
Meanwhile, Dorf tells ABC Radio that he and the show's other organizers are "trying very hard" to have the Queen of Soul attend the event. "No promises, but fingers crossed," he says.
As with Dorf's previous "Music Of" events, all proceeds from the Franklin tribute will go toward various music education programs for underserved or underprivileged young people. For more information about the show, visit MusicOf.org. General admission tickets can be purchased at CarnegieHall.org.
Copyright © 2017, ABC Radio. All rights reserved.