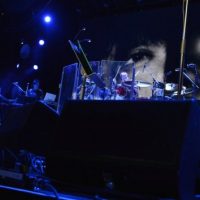 Rick Diamond/Getty Images for The WhoWho frontman Roger Daltrey recently told Billboard that he wasn't sure what, if anything, his band will be doing in 2019, but it appears that the singer may have been holding back some information. In an interview with BBC Radio 6 Music on Thursday, the group's longtime manager, Bill Curbishley, revealed that The Who will be touring this year…and they'll also be making a new album.
"We're gonna tour America, and we've got plans to do some stuff in the U.K.," said Curbishley. "That's gonna be announced over the next couple of weeks…And we've got some really good dates we're gonna do."
Regarding the album project, Curbishley says Pete Townshend has "written some really great songs."
He adds that Townshend "gave me 12 demos, eight of them I think are absolutely great for The Who. And he's still writing, and he's got so much stuff, so I'm sure he'll adapt some of that and we'll get some more songs."
Curbishley also revealed that a long-in-the-works biopic about late Who drummer Keith Moon is finally moving forward.
"[W]e're finally there," Bill said, noting that a scriptwriter named Jeff Pope has been hired for the project. The award-winning Pope's credits include a variety of acclaimed British television shows.
Curbishley revealed that an actor has yet to be chosen to portray Moon, adding, "I'm sort of really fixed on it being an unknown and finding another Phil Daniels."
Daniels was the star of the 1979 film Quadrophenia, based on The Who's classic 1973 concept album.
Copyright © 2019, ABC Radio. All rights reserved.