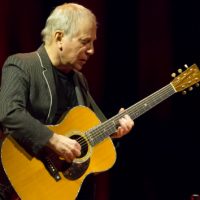 Sam Wordley/RedfernsPaul Simon may have said farewell to touring last year, but the legendary singer-songwriter hasn't retired from performing. He's just been confirmed to headline the final day of the 2019 Outside Lands festival, on August 11, at San Francisco's Golden Gate Park.
Simon will donate all net proceeds from his performance to local environmental organizations.
"I'm looking forward with great anticipation to playing at Golden Gate Park this summer," says Paul in a statement. "This will be my first appearance there, and it's an honor to join the long line of musicians who've given the park its sanctified musical heritage."
He adds, "I'm equally pleased to be playing in San Francisco with its well-deserved reputation for being in the forefront of environmental issues. I'm grateful for the opportunity to be of service to this vital cause."
Outside Lands supports a variety of programs focused on sustainability and environmental education. For example, the festival last year cut down on landfill waste by going "plastic straw free" and introducing more reusable beer mugs and wine glasses.
Outside Lands 2019 will run from August 9 to August 11. The full lineup will be announced on Tuesday, March 26. Visit SFOutsideLands.com for more information.
Simon's Homeward Bound: The Farewell Tour ended with a September 22 concert at Flushing Meadows Corona Park in Queens, New York.
Copyright © 2019, ABC Radio. All rights reserved.