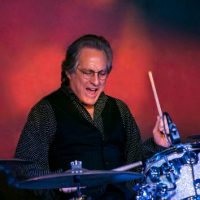 Courtesy of Max Weinberg
Max Weinberg, longtime drummer for Bruce Springsteen's E Street Band, will receive an honorary Doctor of Music degree this Saturday, May 25, from Lafayette College in Easton, Pennsylvania.
Weinberg says Lafayette was his first choice of a college to attend but he wasn't accepted for admission. However, in 1974, he wound up playing a sold-out concert with Springsteen on campus at the Allan P. Kirby Field House.
Weinberg will be presented his degree at the school's 184th Commencement, at 2:15 p.m. ET in Fisher Stadium, by the college's president, Alison Byerly.
Meanwhile, this Friday, May 24, the 68-year-old Rock & Roll Hall of Famer and his Max Weinberg's Jukebox side project will play a concert at Lafayette's Williams Center for the Arts. At the show, which starts at 8 p.m., the audience will help pick the songs Max and his four-piece band will play, chosen from a set of 300 tunes the group knows, including classics by The Beatles, The Rolling Stones and Springsteen.
Earlier that same day, The Morning Call reports, Weinberg will be at the Karl Stirner Arts Trail in Easton where he'll join the town's mayor and other local luminaries to take part in the dedication of a new musical playground. Max will play one of six chimes that make up The Musical Path, an art installation that allows visitors to create their own tunes. The event begins at 2:30 p.m. local time.
Max Weinberg's Jukebox currently has more than 20 concerts on its tour schedule, which is mapped out through a December 1 show in Key West, Florida.
Here are all of the group's shows, according to Weinberg's official website:
5/24 — Easton, PA, Lafayette College
6/1 — Colonia, NJ, 350th Anniversary of Woodbridge at Merrill Park Middlesex Turnpike
6/27 — Asbury Park, NJ, The Stone Pony
6/29 — Amagansett, NY, The Stephen Talkhouse
7/8 — North Truro, MA, Payomet Performing Arts Center
7/10 — Cape May, NJ, Cape May Convention Hall
7/11 — New York, NY, Sony Hall
7/13 — Washington, D.C., The Hamilton Live
7/14 — Rocky Mount, VA, Harvester Performance Center
9/7 — Valparaiso, IN, Valparaiso Popcorn Festival
10/2 — Branson, MO, Dick Clark's American Bandstand Theater
10/5 — Waterville, ME, Waterville Opera House
10/6 — Boston, MA, City Winery
10/11 — Park City, UT, Egyptian Theatre
10/12 — Park City, UT, Egyptian Theatre
10/13 — Park City, UT, Egyptian Theatre
10/25 — Ottawa, ON, Canada, Meridian Theatres at Centerpointe
11/1 — Schaumberg, IL, Al Larson Prairie Center for the Arts
11/21 — Woodstock, NY, The Colony
11/22 — Toms River, NJ, Grunin Center for the Arts
11/23 — Stroudsburg, PA, Sherman Theater
12/1 — Key West, FL, Key West Theater
Copyright © 2019, ABC Radio. All rights reserved.