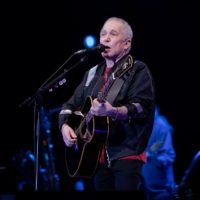 Credit: Jake EdwardsWhen Paul Simon announced that he was retiring from touring last year, he also revealed that he intended to continue to play charity concerts.
Now, the folk-rock legend has lined up a pair of new benefit shows on the Hawaiian island of Maui on August 13 and 14 that will follow his previously scheduled August 11 headlining appearance at the 2019 Outside Lands Festival in San Francisco.
The performances will mark the first concerts Simon has ever played on Maui, and will be his first anywhere in Hawaii since he and Art Garfunkel performed in Honolulu in 1968.
Tickets for the concerts go on sale to the public this Saturday, June 22, at 10 a.m. local time and will be available at the Maui Arts Cultural Center box office, by calling 808-242-SHOW or online at MauiArts.org.
The concerts will benefit a pair of Hawaiian-based environmental organizations: the Auwahi Forest Restoration Project and KUA. The Auwahi Forest Restoration Project works to preserve and restore native-forest areas by planting native trees and controlling the spread of non-native plant species. KUA supports community-based organizations that promote and manage natural and cultural resources.
Simon also will be donating the net proceeds from his Outside Lands festival performance to local charities: San Francisco Parks Alliance and Friends of the Urban Forest.
Copyright © 2019, ABC Radio. All rights reserved.